PROCESS
Get more wins with a full pipeline of evidence-based tests.
Go live in 2 weeks.
Start fast with your first test live in just two weeks. Get a full pipeline of tests in three months. Then keep iterating and scaling to create predictable ongoing revenue growth.
By launching more tests and better evidence-based tests our clients average a 34% lift in their first 90 days.
Get a Demo -->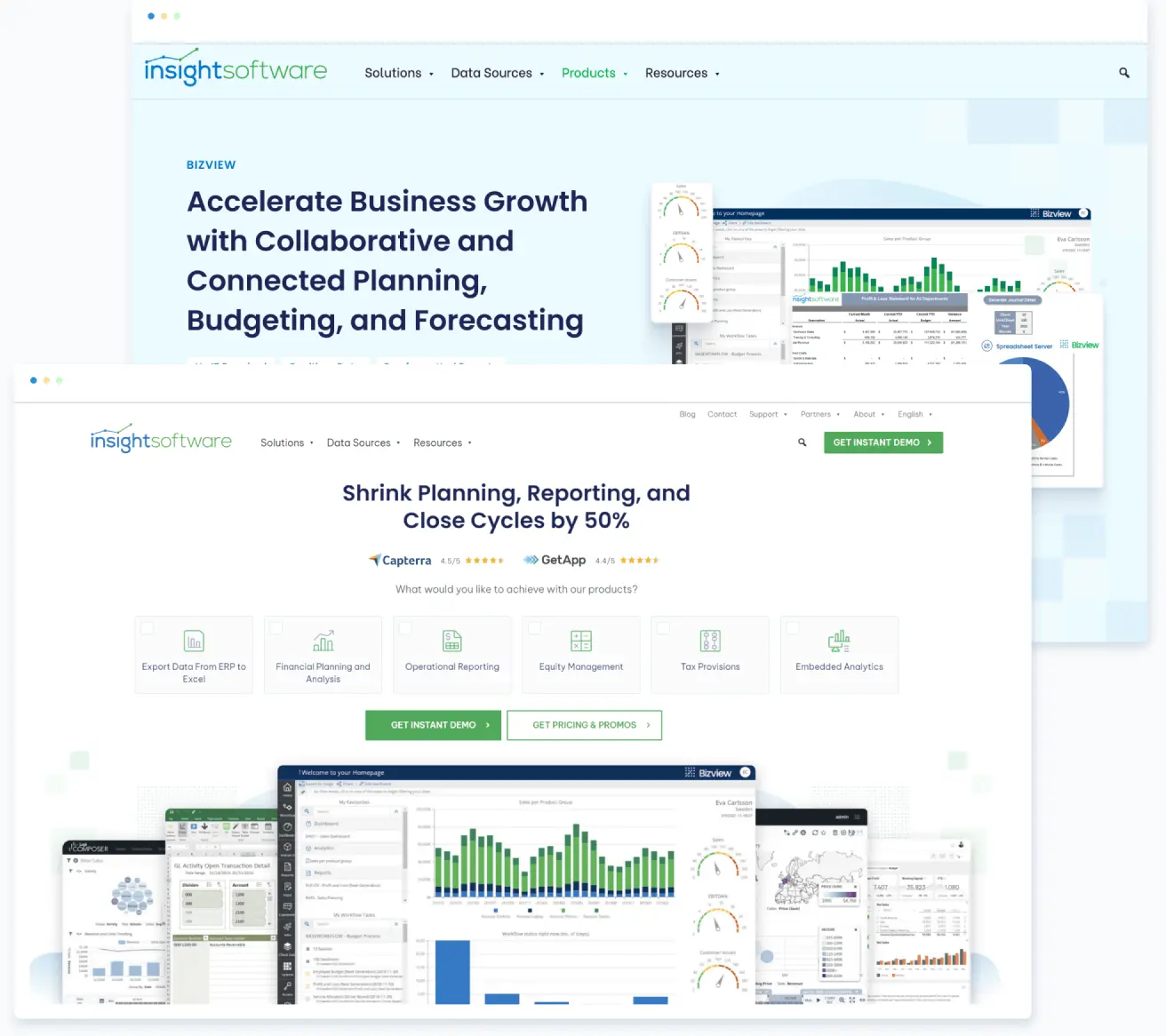 QUICKSTART (WEEKS 1 - 2)
Start fast.
Launch your first test
in 2 weeks.
Set the pace for the engagement by getting off to a running start. During our kickoff get mockups for your first 3 tests. These initial tests are based on proven repeat winners from our prediction engine.
Building a PIPELINE (Months 1 - 3)
An Overflowing Pipeline
of Tests
in 3 Months
Create a pipeline of built-out tests on all your most important pages. Eliminate downtime between tests. Here's everything that happens in those first three months.
Conversion Mapping
Identify your best conversion opportunities. We map out the pages that contribute the most conversions or that assist conversions.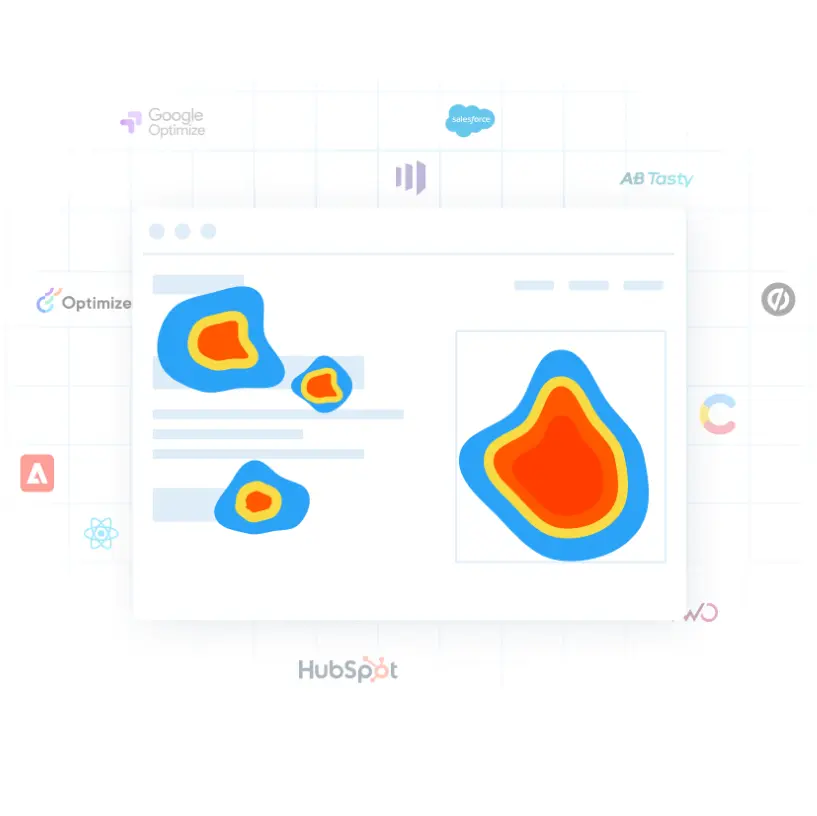 Research & Analytics
Get a full research audit to uncover what is stopping visitors from converting. Interviews, heatmapping, session recording, objection polling, message testing, and more. Finding synthesized, ready to test.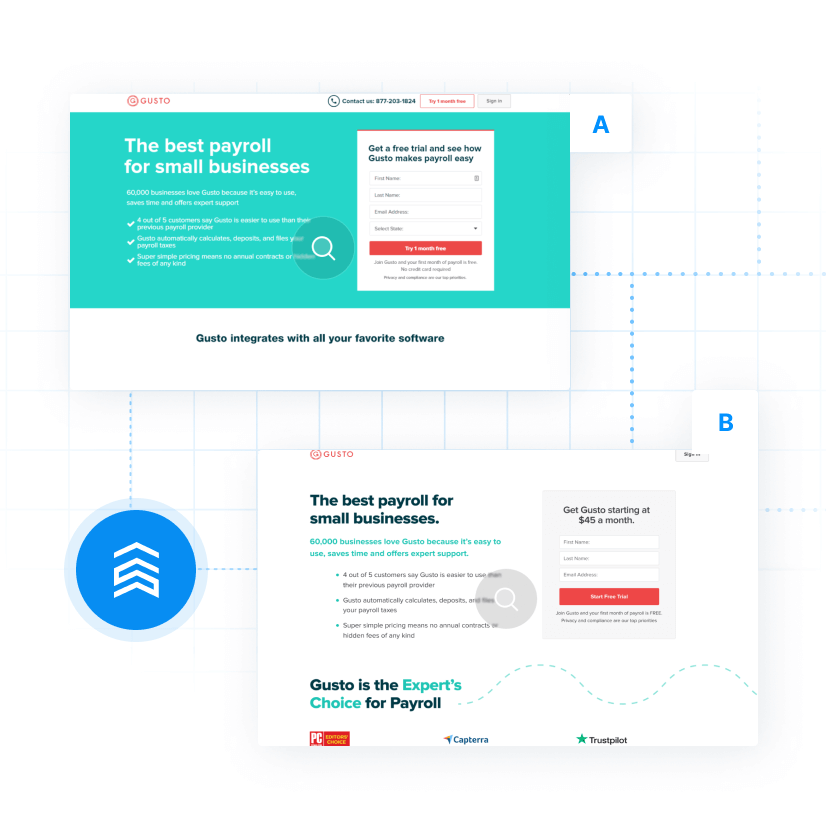 Design
Hypothesis from predictive analytics and our research audit is turned into high-fidelity mockups. On brand, in your voice. Tests your entire team will want to win.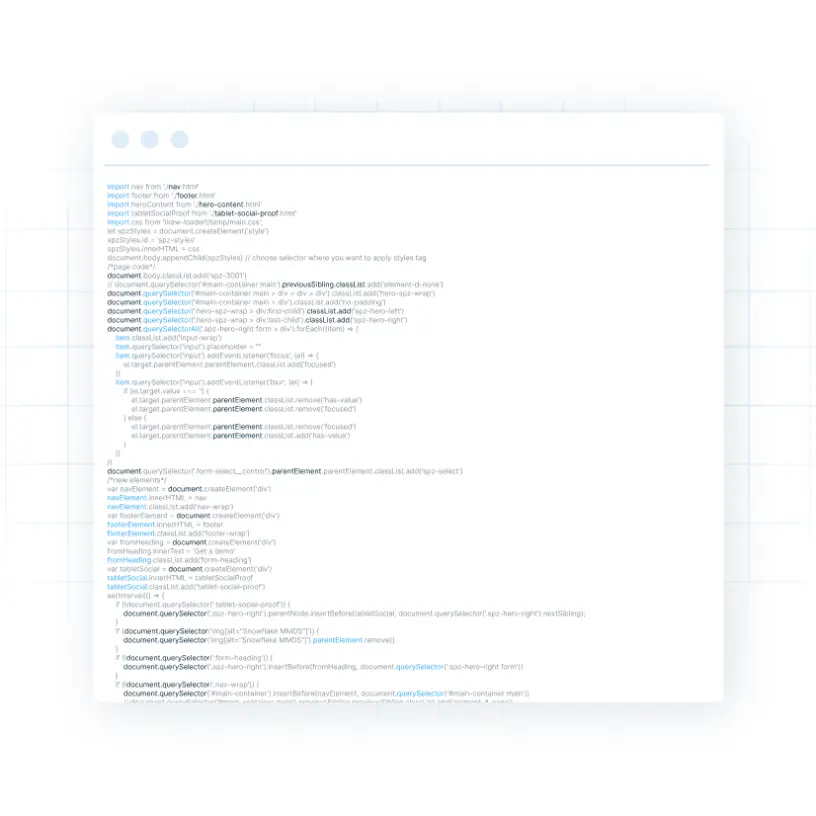 Development
Tests are built-out in the testing tool, QAed, and ready for your final approval. When you give us the thumbs up, we launch the A/B test.
Results
Clients average 10 tests launched and a 34% lift in conversions in their first 3 months. Because we are using proven winners - you get fast predictable results.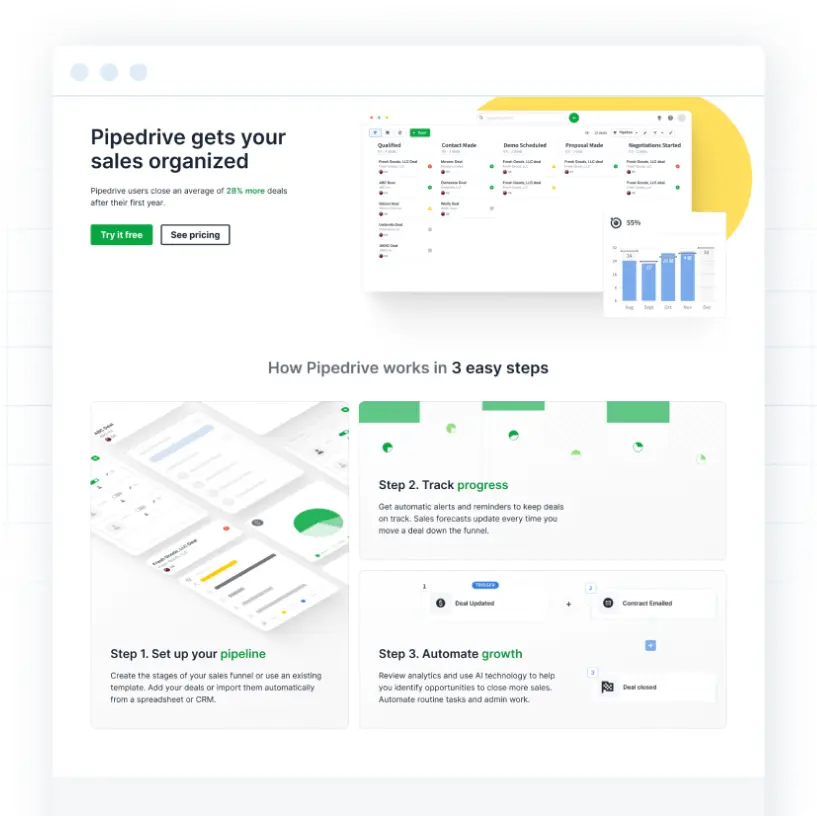 Hard Coding
We even hard code your winners natively in your CMS - so they run faster and get you even better results. Or if you prefer get all the assets for your dev team.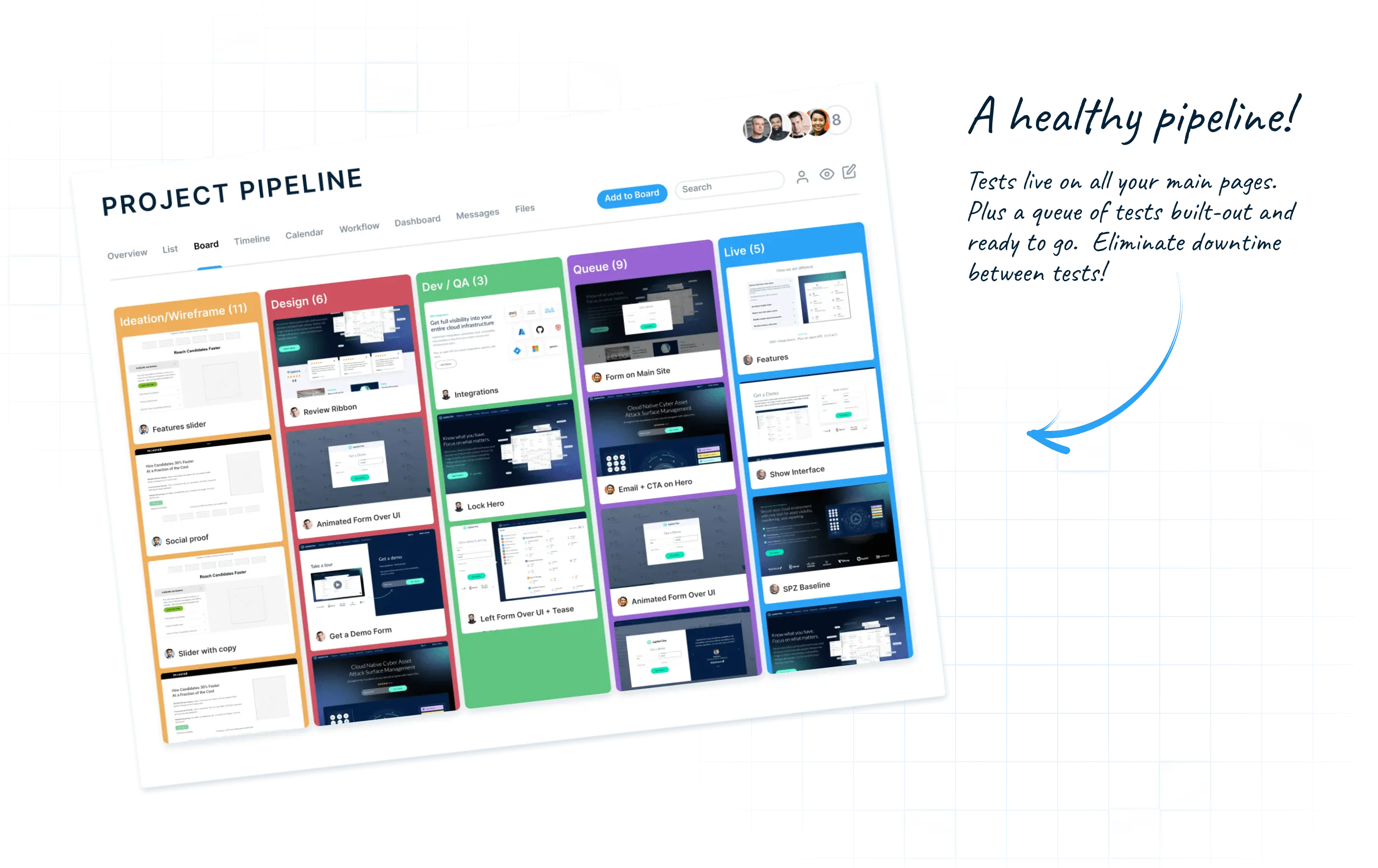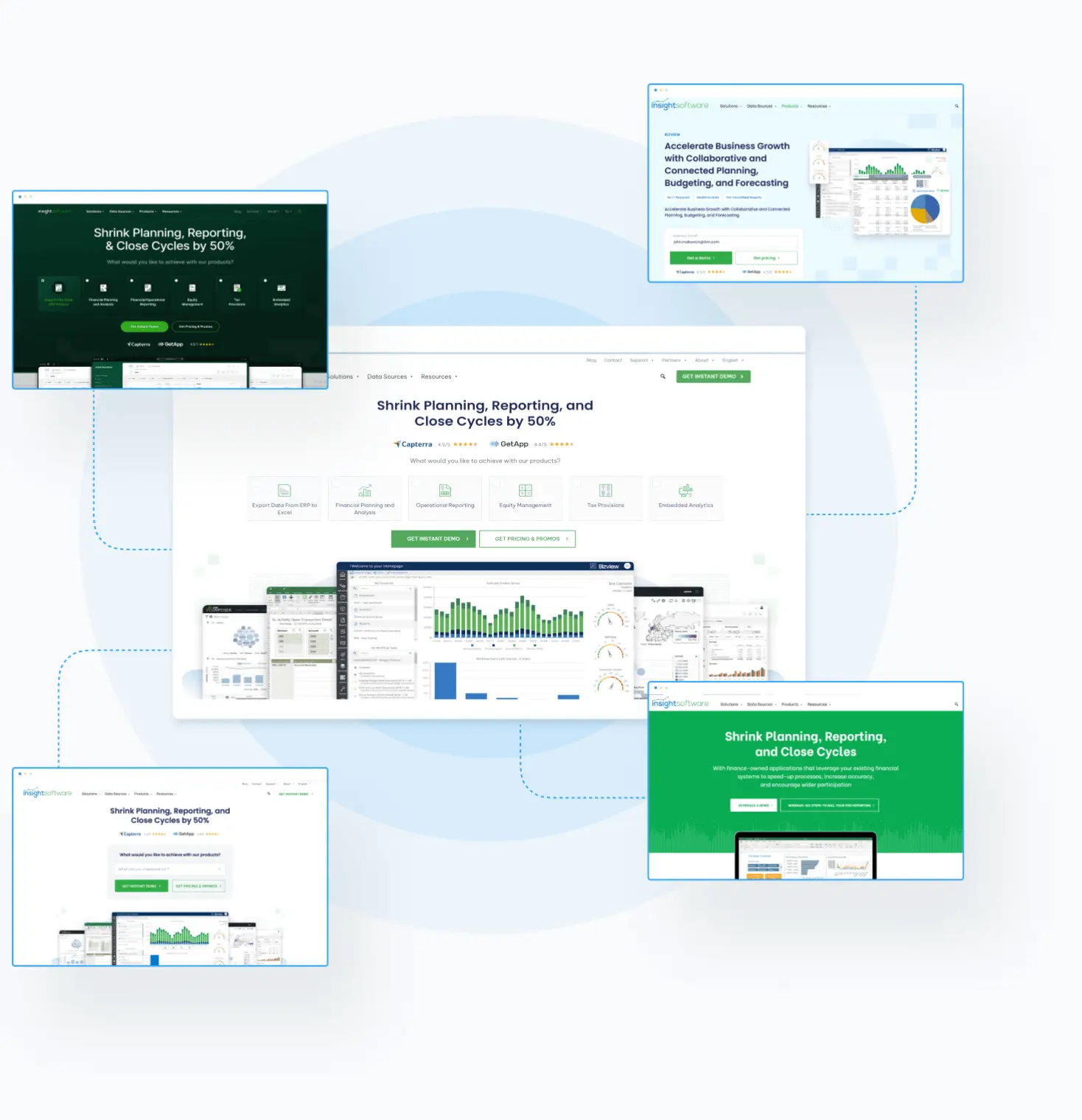 ITERATE (MONTH 3+)
Iterate and Scale
to
Drive Ongoing Revenue Growth
Iterate using testing results, research, and the latest trends from our prediction engine to find new wins. Scale insights from those wins to all your pages to magnify the results.
Create a process for generating a predictable stream of ongoing revenue growth.
Get the top 3 predictions for your site
See the top 3 recommendations from our prediction engine for your most important page when you book a demo.