How it Works
Get a steady stream of A/B testing wins, that translate into more conversions, leads, and revenue. We provide the people, expertise, and tools that let you take a strategic role while we handle the details. On average, clients get their first win in 43 days and then average a win every 22 days.
Research & Predictive Analytics
Start by discovering what stops visitors from converting and how to fix it. Research & predictive analytics identify high-probability test hypothesis.

Custom Research
Discover what is keeping your visitors from converting. We stalk visitors on the bubble to learn the motivation gaps, objections, and ambiguities hurting conversions. Interviews. Analytics. Session mapping. Exit polling.

Testing Library
Piggyback off proven winners. We mine our test library of 1,800 winning tests, to identify tests that are known to work for sites like yours. SaaS. Lead Gen. Ecommerce. Finance. Media. Apps.

Scraper
Steal winning tests from your competitors. We crawl 170,000 sites daily, identifying winning A/B tests that we validate, then put to work for you. (U.S. & Worldwide patents pending).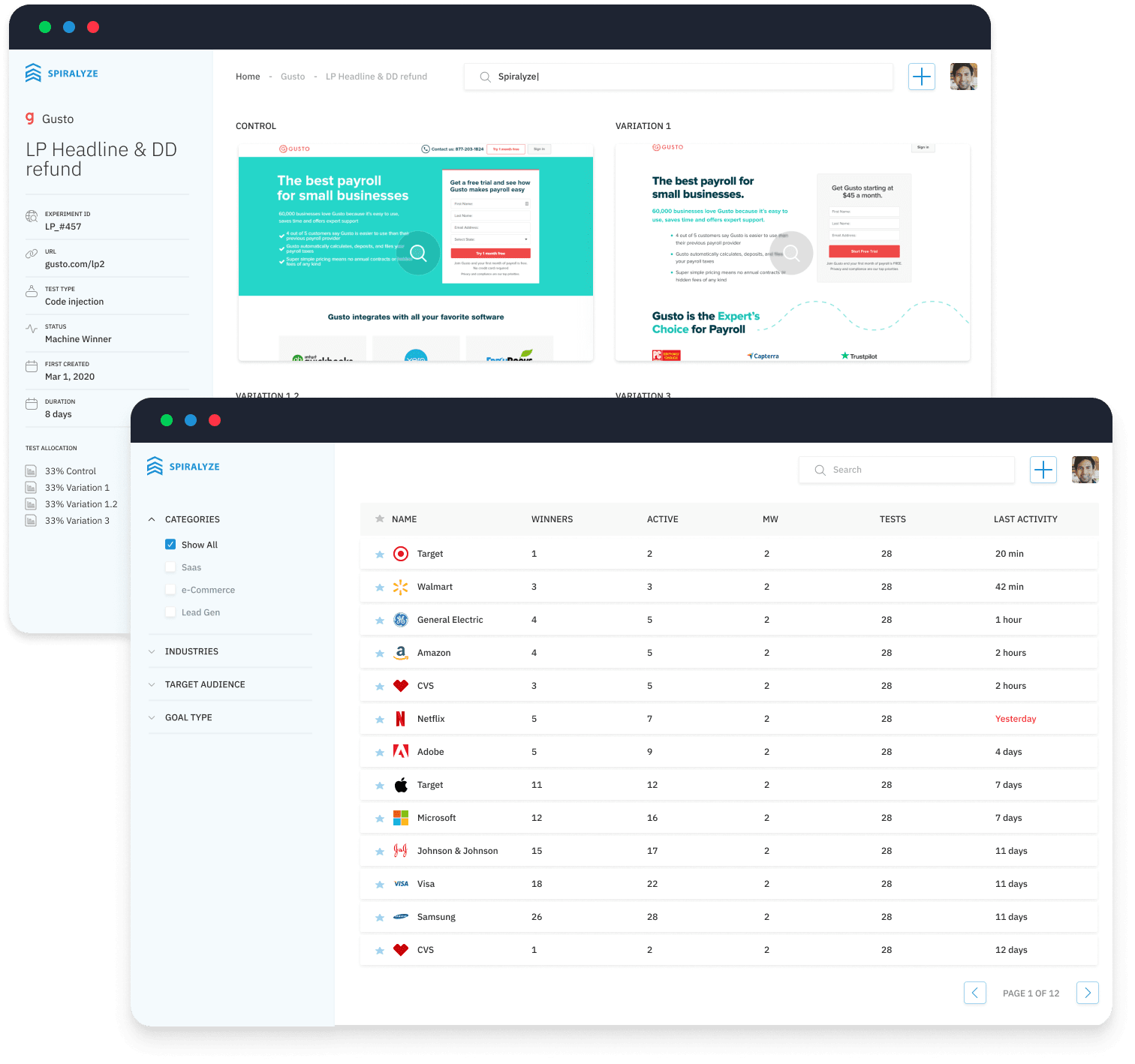 The Spiralyze Scraper crawls over 170,000 websites per day looking for winning A/B tests that we can steal and put to work for you.
Design
Turn testing hypothesis into beautiful, high-fidelity designs that your team is excited to test.

Wireframing & Copywriting
Wireframing and copywriting target specific conversion issues. Using proven conversion frameworks we create high probability designs.

Pixel Perfect Designs
High fidelity mockups bring the page to life. Top-tier design, refined over multiple iterations. Mobile-first or mobile responsive.
Brand Compliant
On-brand and written in your voice. An organic extension of your team. We'll push the envelope occasionally, but in a way that is on-brand and data-driven.
Designs are beautiful,
on-brand
, and high converting. Our portfolio.
Test Development
Go from idea to test in days. Top tier engineers and QAs, plus rigorous processes ensure speed and quality.

Development
Fast development by a team of 30 experienced software engineers. Developed in the testing platform or directly on your CMS (Rails, WordPress, Marketo, React, Unbounce, Shopify, and more).

Quality Assurance
Pixel perfect every time. Development is scrutinized using a formal checklist-based system. Our process includes review by a senior developer (buddy programming), two associate QAs, and one senior QA.

Implementation
Implementation of winning tests is done for you. In the short term we implement via the testing platform. We can handle hard-code too. Or, if you prefer, provide detailed design specs to your dev team.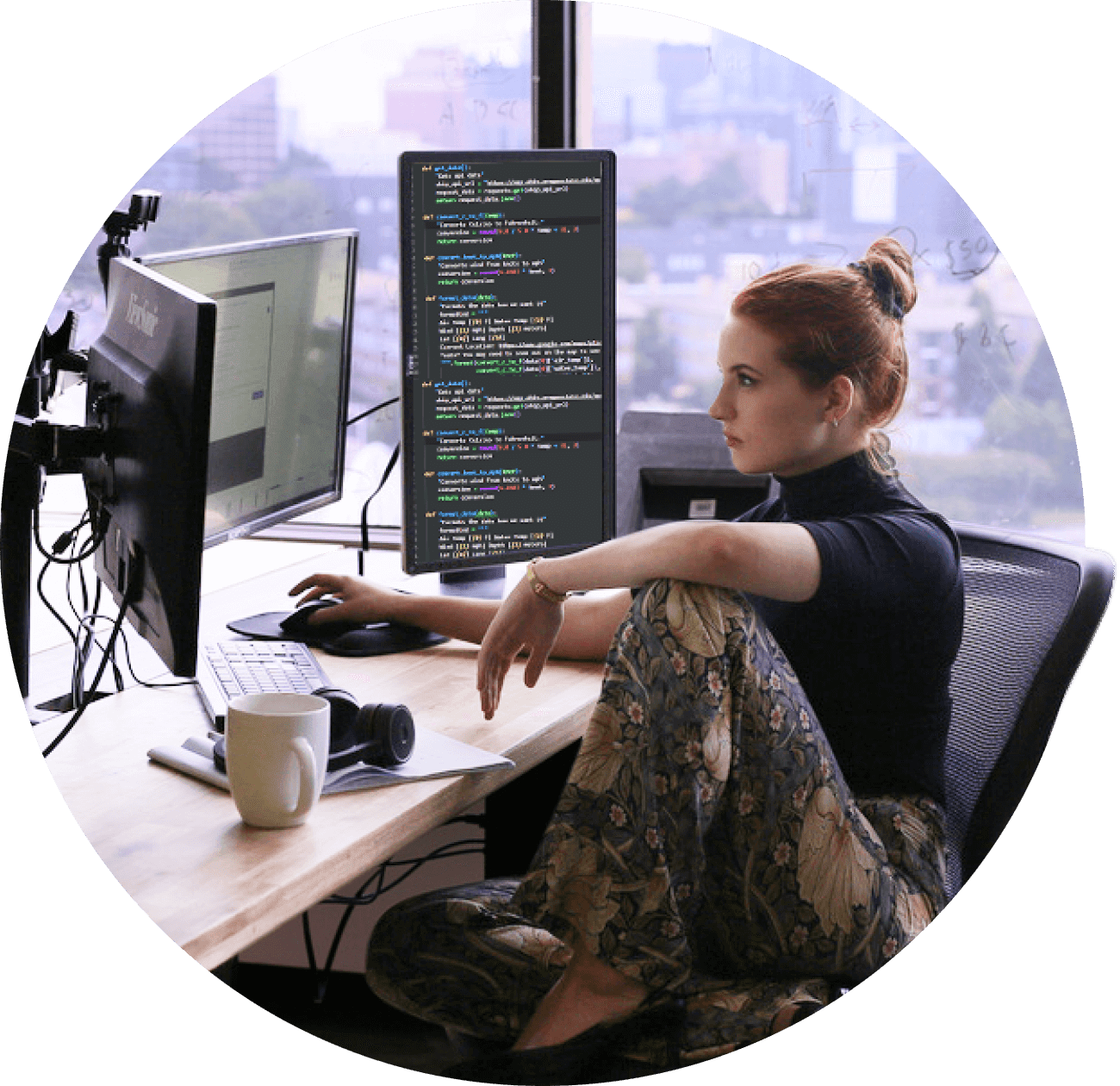 Fast, high quality development brings test ideas to life.
Test Measurement
Measure what matters with precision to identify winners and discard losers.

Analytics Setups
Get your analytics straightened up. We audit analytics to ensure all the relevant metrics are correctly recording and reconcile with known sources of truth.

Test Instrumentation
Setup measurement of all the relevant test metrics. Go beyond simple conversions and measure down-funnel metrics that drive business impact like MQL, SQL, buys, paying-accounts, and more.

Test Interpretations
Guidance on when to call tests. Know when you should call a test, when it needs more time, and when to move on. Manage statistical significance, periodicity, and explore/exploit tradeoffs.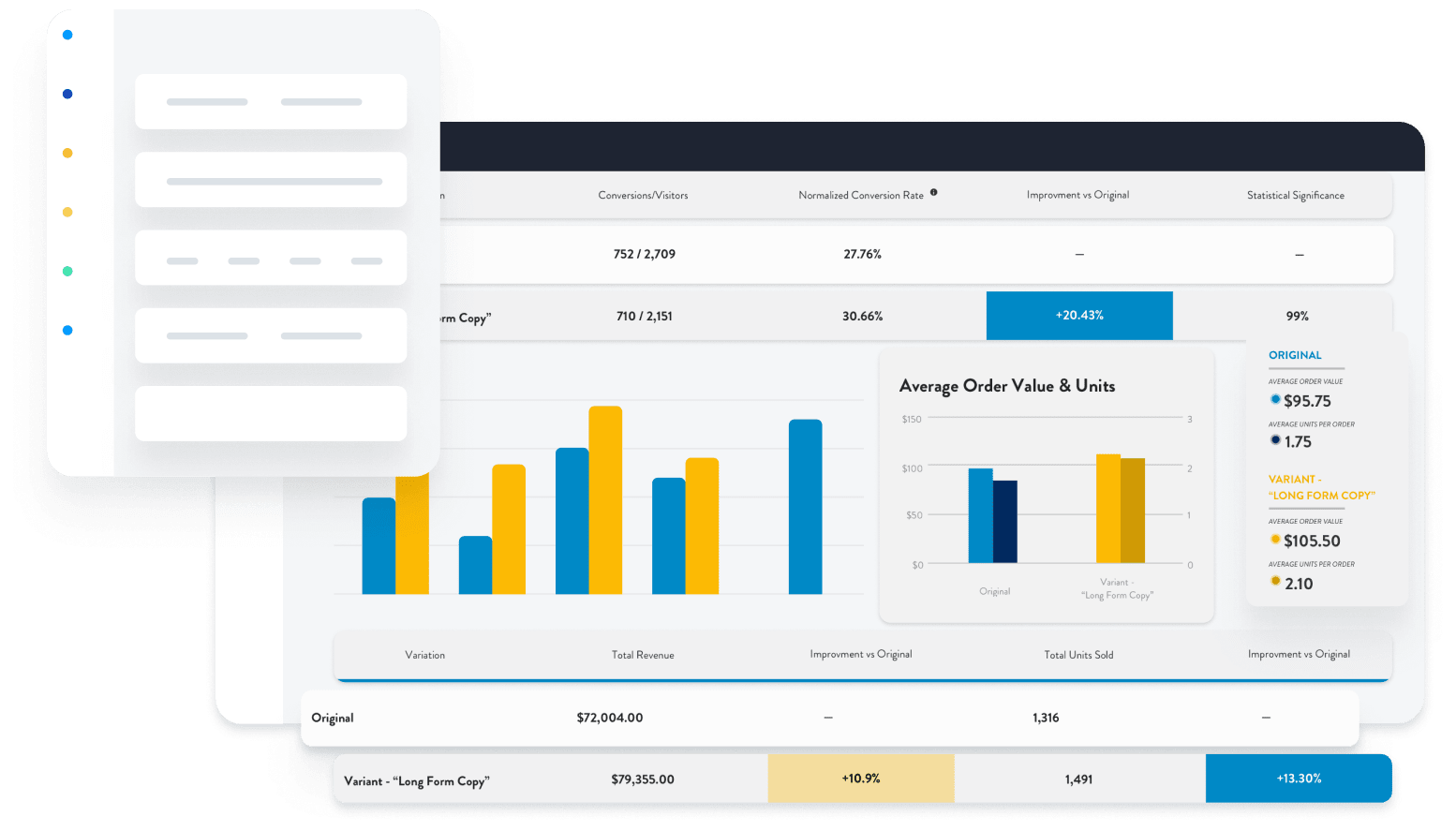 Measure test outcomes and interpret
the data to call winners, losers, and no-result outcomes.
Strategic Roadmap
Drive ongoing impact with a pipeline of tests. Extract learning to drive broader impact across the organization.

Testing Roadmap
A pipeline of good tests leads to a steady stream of wins. We map your site to find the optimal places to test. Then create a testing roadmap with an ordered list of high probability tests.

Scale Up Impact
Turn a win on one page into a sitewide wins. Wins on a single page are validated, templatized, and applied across the site.

Capture Learnings
Leverage test learnings across the broader organization. Test outcomes and the resulting insights are documented so they can be used by other teams and become part of the institutional memory.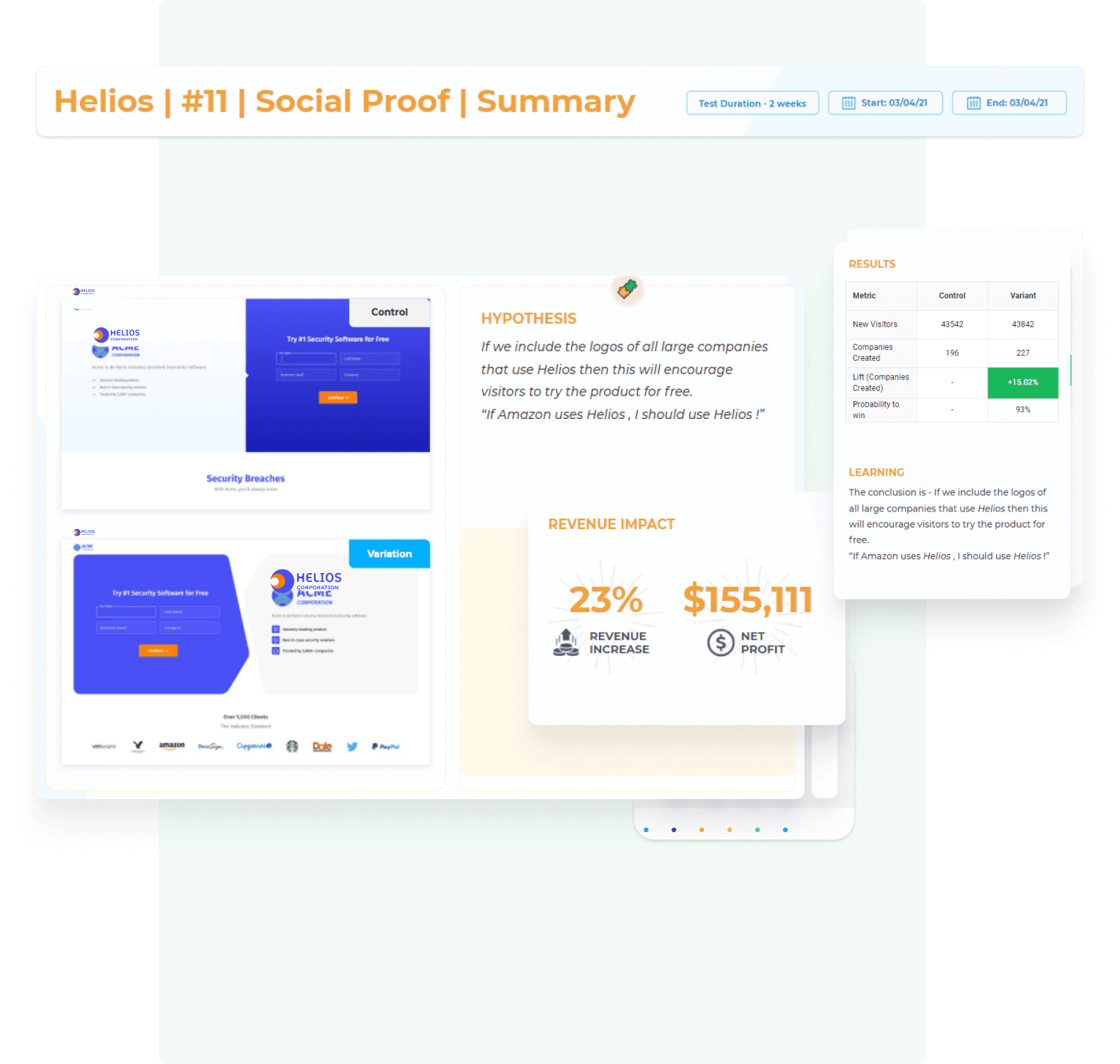 Share learning and drive broader oganizational impact via test readouts.